You must be a member and logged in to see this pattern.
Stuffed Wrist Rest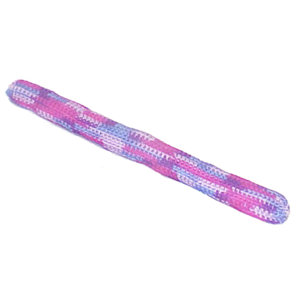 Designed By Julie A. Bolduc
This wrist rest is fast to make and is just the right length to put in front of your keyboard. It is much better looking than those basic wrist rests you can buy in a store.
Materials Needed
Worsted weight acrylic yarn in any multicolor.
Size H/8 or 5mm aluminum crochet hook
Polyester Fiber fill
Yarn needle for stitching seam and weaving in ends.
Yarn Thickness: 3mm
Gauge: 7dc = 2"
Finished Size: 20"Lx1.5"
Skill Level: Beginner
Instructions
ROW 1: Ch73. Sc in 2nd ch from hook and in each ch across. Ch2, turn.
ROW 2: Sk first sc. Hdc in each sc across. Ch3, turn.
RND 3: Sk first hdc. Dc in each hdc across. Dc in top of ch2. Ch2, turn.
ROW 4: Sk first dc. Hdc in each dc across. Hdc in top of ch3. Ch1, turn.
ROW 5: Sc in each st across. Sc in top of ch 2. Ch1, turn.
ROW 6: Sc in each sc across. Ch2, turn.
ROW 7: Rep row 2.
ROW 8: Rep row 3.
ROW 9: Rep row 4.
ROW 10: Rep row 5.
ROW 11-15: Rep rows 6-10 once. Fasten off and leave end about 60" long. Use this to lace stitch row 1 to row 15 to form a tube. Use the lace stitch to produce a flat seam. Finishing : Gather up one end to close tight. Stuff with polyester fiberfill to a comfortable thickness. Gather up the other end to close.
Design written on Tuesday, May 17, 2005. Copyright ©2005 By Julie A. Bolduc p114097
Random Quick Tip!