You must be a member and logged in to see this pattern.
Cute Little Shade Pull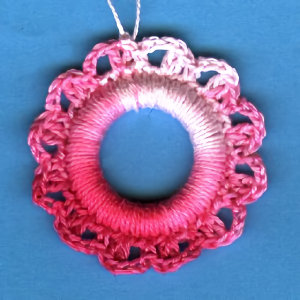 Designed by Julie A. Bolduc
This shade pull is very fast and easy and could easily be the base for a really cute lapel pin by adding a bow, and perhaps some ribbon roses. And then a pin to the back. Or if you use green thread and some red beads and a red bow, you could have a really festive Christmas wreath pin.
Materials Needed:
Small amount Shaded Pinks Size 10 Crochet Cotton. Southmaid was used.
A 1" diameter bone ring.
Size 7 steel crochet hook.
Yarn Thickness: 10thread
Gauge: 10sc=1"
Finished Size: 1.5" diameter
Skill Level: Beginner
Instructions
RND 1: Tie thread on to ring. Work 48 sc in ring.
RND 2: Ch3, dc in same st as slst. Ch3. *Sk next 2 sc. Sc in next sc. Sk next 2 sc. 2dc in next sc. Ch3. Rep from * around. Join w/slst to top of ch3. Fasten off leaving ends long. Weave the starting end in just so that it is right next to the finishing end and use these ends to secure to your shade.
Design written on Monday, March 29, 1999. Copyright ©1999 By Julie A. Bolduc p114004
Random Quick Tip!