You must be a member and logged in to see this pattern.
Static Stitch Dish Cloth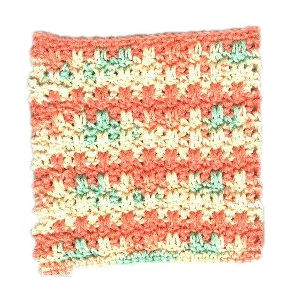 Designed by Julie A. Bolduc
This dishcloth uses, the static stitch, as it's pattern stitch. The color pattern is a repeat of Tea Rose, Pastel Delights & cream colored Peaches & Creme worsted weight cotton yarn. What a great way to practice this stitch.
Materials Needed:
Peaches & Creme worsted weight yarn in
Tea Rose, Cream and Pastel Delights
Size F aluminum crochet hook.
Yarn Needle
Yarn Thickness: 3mm
Gauge: 4sc=1" 4 rows sc=1"
Finished Size: 7"x7"
Skill Level: Intermediate
Instructions
With Tea Rose
ROW 1: Ch 31, sc in 2nd ch from hook and in each ch across. Ch 3, turn.
ROW 2: Dc in 2nd sc, ch 2, *Sk 2 sc, dc in next dc. Repeat from * across. Dc in last sc. Fasten off.
ROW 3: Tie on Pastel Delights in last dc made in ROW 2. Ch 1, sc in same dc. Sc in next dc. *1 dc working over the 2 chs, in each of the two sc's that were skipped. Sc in dc. Repeat from * across. Sc in last dc. Ch 3, turn.
ROW 4: Repeat Row 2.
ROW 5: With Cream, repeat Row 3.
ROW 6: Repeat Row 2.
ROW 7-21: Repeat rows 2-5 consecutively 2 more times changing colors in the following sequence in the following rows.
7 Tea Rose,
9 Pastel Delights,
11Cream,
13Tea Rose,
15 Pastel Delights,
17 Cream
19 Tea Rose
21 Pastel Delights.
You should end up with Pastel Delights for row 21. Ch 1, turn.
ROW 22: Work 1 sc in each stitch across. Fasten off Weave all ends into work.
Design Written in March 1998 Copyright © 1998 By Julie A. Bolduc p112001
Random Quick Tip!