Soap Holder Body Scrubber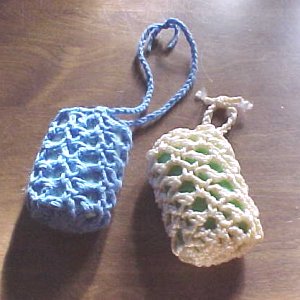 Designed By Julie A. Bolduc
This soap holder doubles as a body scrubber meant for scrubbing rough areas on your skin. If you want a softer scrubber, just substitute cotton yarn for the nylon yarn. When the bar of soap gets small, just tuck a new one in with the small piece of soap. So this is also a soap saver! In the picture you will see that I made two samples. The blue one is made with worsted weight acrylic yarn and the other one is made with nylon yarn.
Materials Needed:
Small amount nylon plastic canvas yarn or acrylic worsted weight yarn
Size H/8 or 5mm aluminum crochet hook
Yarn Needle
Fresh big, bar of soap
Yarn Thickness 4mm
Gauge 4dc = 1"
Finished Size 5"x3.5" A bath size bar of soap fits snug
Skill Level Beginner
Instructions
RND 1: Ch6. Join w/slst to first ch to form ring. Ch1. *Sc in ring. Ch5. Dc in ring. Rep from * 5 times more. Join w/slst to slst to first sc. you should now have 6 ch5 lps around.
RND 2: Slst in the first ch of the first ch5 lp. Sc in ch5 lp. Ch5. Dc in same ch5 lp. Sc, ch5, dc in each ch5 lp around. Join w/slst to first sc.
RND 3-7: Rep rnd 2. Fasten off and weave ends into work.
Drawstring: Make a basic chain as long as you want it to be. Weave in and out of round 7 and tie the ends together to secure it. Tuck a bar of soap in your little bag.
HINT: If you want to make this into a home made soap on a rope, just make the draw string super long.
Design written on Saturday, February 12, 2000. Copyright ©2000 By Julie A. Bolduc f114006
Random Quick Tip!