Dainty Earrings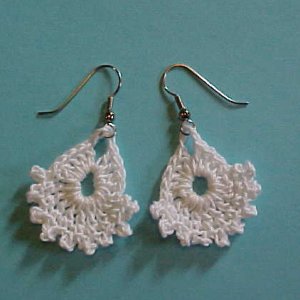 Designed By Julie A. Bolduc
These earrings are very fast and easy to make. You could make several pair in an evening and could even sell well at a school bazaar! Yes I give you permission to use this pattern for making items to sell in your local community. All I ask it that you include the url to this site somewhere on the label.
Materials Needed
Small amount desired color crochet cotton size 10. Southmaid in white was used in the example.
Size 7 steel crochet hook
Pair of fishhook earwires
Thread Size: 10thread
Gauge: 10sc=1"
Finished Size: 1¼"x1¼"
Skill Level: Beginner
Instructions
RND 1: Ch8, join w/slst to first ch to form ring. Ch3, 13dc in ring. Ch4. 4dc in ring. Join w/slst to top of ch3.
RND 2: Ch3, slst in 3rd ch from hook. Picot made. Sc in next st. *Pic. Sc in next st. Rep from * 7 more times. Ch1. Fasten off. Weave ends into back of work.
Attach work to earwires in the ch4 area.
Design written on Thursday, January 04, 2001. Copyright ©2001 By Julie A. Bolduc f107008
Random Quick Tip!