Beaded Popcorn Garland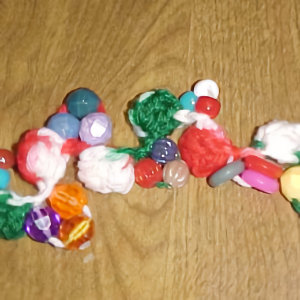 Designed By Julie A. Bolduc
This garland uses a combination of beads and popcorns which takes a little longer to make but the ending result is well worth the effort. I used assorted beads and a variagated Christmas yarn but you could use one type of bead with a solid color yarn for a completely different effect. Either way, it would look wonderful on any tree.
Materials Needed
Small amount worsted weight acrylic yarn. Red Heart Christmas yarn was used in the example
Assorted beads with holes big enough for the yarn to go through. 1/3" to ½" in size.
Tapestry needle with a thin enough eye that will fit through the beads yet big enough to put yarn through.
Yarn Thickness: 4mm
Gauge: 4sc=1" or 4 popcorns are 3"
Finished Size: 1¼" wide x desired length
Skill Level: Beginner
Instructions
String all beads on. I strung them on 3 of a kind at a time. Be sure you string on a multiple of 3 beads. You want about 3 beads for every 1½" of garland you want to make.
Ch3, work 5 dc in 3rd ch from hook. Take hook out of loop and insert into first dc made, then back into the loop you dropped. Bring the loop through the first dc. Ch1. Bring up 3 beads and chain 4. Pop. 3 beads, pop. Repeat in this way for your desired length. Fasten off and weave ends into popcorns.
Design written on Monday, December 06, 1999. Copyright ©1999 By Julie A. Bolduc f115001
Random Quick Tip!